18
Mar
(Source: likes-boys)
07
Mar
yes! especially on days like today when i feel sick <3
FEEL BETTER DINA MAH LUVE <3 <3 <3
also- tea is the bomb diggity.
17
Feb
reblogging for my friends and Makaela who is new to drinking tea C:
(Source: makeallthethings)
16
Feb
(Source: leftonlisa)
21
Jan
Im Just British………..*Cries*
lol I'm royalty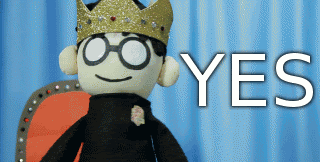 05
Jan
Things we're loving today: Morning Mug

We all take our time to really wake up in the morning, so does this mug. When it's cold, it displays a sleepy face. And as you pour in your favorite hot beverage, it will start waking up and will greet you with a smile. Buy it here ($29) | via:

GAW! Super cute.
I want to buy ALL OF THE THINGS
08
Dec
(Source: unloosing)
22
Nov
this is so hypnotizing to watch… 
(Source: keirlyonfraser)